Hello from Sunny Pattaya!

We rent furnished 2-bedroom townhouses on Soi Nern Plab Wan (aka Soi Sukhumvit-Pattaya 53) and Soi Khao Noi (aka Soi Boonsampan), east of the railway.

The townhouses are in Chok Chai 4 and Chok Chai Garden Home 1 Villages, are 320 square meters (on 420 square meters of land) and rent for B10,000 per month or B1,000 per day, including use of swimming pool.

Broadband in the townhouses is available for B800 per month. Motorbikes are available for rent starting at B3,000 per month including insurance.

We also rent furnished rooms and furnished condominiums , unfurnished rooms and a furnished 3-bedroom villa in Pattaya Tropical Village nearby.

Chok Chai Village 4 (Point B on the map below) is east of Sukhumvit at Central Pattaya Road (Pattaya Klang), 3.6km (2.2miles) to the beach (Point A).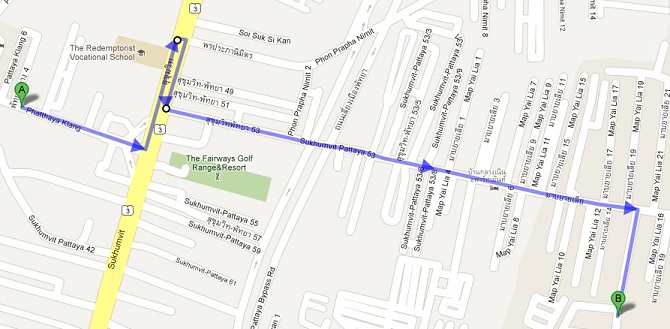 Click here for an interactive Google map and driving instructions to Chok Chai 4 and Chok Chai Garden Home 1.
Here's what a few of our regular customer have to say:
East of Sukhumvit is more peaceful than in town but there's still plenty of bars and restaurants and it doesn't take long to get to Walking Street on a motor-bike taxi when I want to go.
Franco - Milan
They keep the houses clean and well-maintained. They're in gated villages with their own swimming pools and restaurants. Very peaceful...
Richard - Bristol
I like having the extra space of a house. In Pattaya, you never know how many guests you might have on any given night.
Phillip - Frankfurt
All our houses are air-conditioned and fully furnished. The bottled-gas stoves have two rings and extractor fans. Housekeeping, laundry and taxi service available on request. All houses are equipped with additional water tanks to cover times when the municipal supply dries up.
Two of the townhouses have second bathrooms making them especially suitable for two couples or a family.
Click here for larger pictures of the houses. Click here for a Google map and driving instructions.
If you would like to know more, call the Verdant Apartments office on 0890 504 722 or 038 406 426.
Or fill in the form below and we'll answer your questions. If in Pattaya, visit the office (24/4 Soi Nern Plab Wan, Soi Mapyailia 17) and we'll take you to see our houses.
If you want to reserve before you arrive, you can pay the deposit to our bank in Thailand or the UK or by PayPal. (Don't have a PayPal account? Sign up here.)
Fill in the form below and we'll tell you what we have available for your dates.
See you soon...
Chok Chai Rentals